Schools around the world are integrating the InterACT Curriculum into their programs. Below is a list of just a few of the schools where InterACT is being taught.
Featured InterACT Schools
Is your school using or planning on using InterACT curriculum content? Contact us and we may feature your school.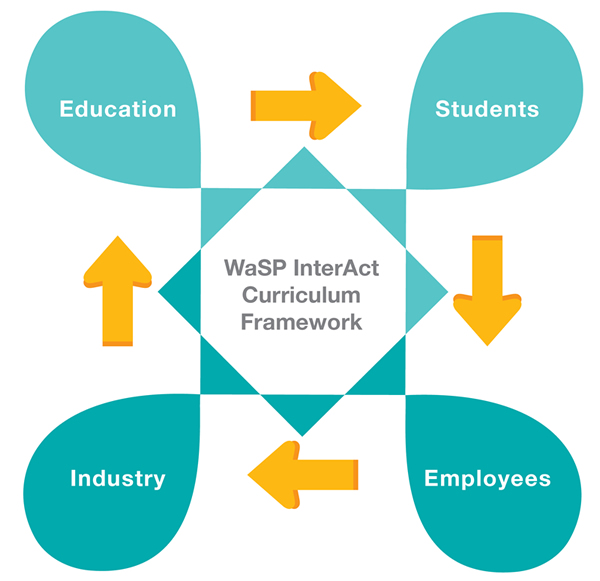 What do faculty have to say about InterACT?
Jeffrey Brown, faculty at Damascus High School (Damascus, MD) and Montgomery College (Rockville, MD)

"At Damascus High School we incorporate InterACT into our Career and Technology Courses including Software Applications by Design, Website Development, and Advanced Web Tools and Digital Media.

The entire Interactive Media department at Montgomery College is redesigning their program to realign with the WaSP InterACT Curriculum. Some specific courses that will employ InterACT content include CA272 - Professional Website Development, CA273 - Advanced Professional Web Technologies, CA276 - Dynamic HTML with Javascript."

Leslie Jensen-Inman, faculty at The University of Tennessee Chattanooga (Chattanooga, TN)

"The University of Tennessee at Chattanooga is excited to be the first university to incorporate InterACT into its courses. It's a great opportunity to be a part of a powerful movement in web education, preparing students to be the next generation of web professionals.

Our program features a number of courses that use InterACT content including Web Media 1, Web Media 2, Internship, Independent Study, and Professional Practices of Graphic Design."

Terry Morris, faculty at Harper College (Palatine, IL)

"Web development courses have been taught at Harper College for over ten years. The Web has changed a lot during that time and the faculty is always working hard to keep up with industry trends and best practices. As a community college, we offer a Web Development Associate of Applied Science Degree and the following certificates: Web Development, Web Visual Design, Accessible Web Design & Compliance, Graphic Arts Web Design, E-Commerce Business, and Public Relations for the Web.

The new InterACT curriculum will be an essential resource as we continue to update the courses in the degree and certificate programs. Since Harper College has existing programs, we've chosen to adopt/adapt components of the InterACT courses based on how the learning competencies correspond to our state-approved curriculum. Here's how we've utilized the InterACT curriculum for two courses in the Accessible Web Design & Compliance Certificate program:

WEB 150 Web Development: This three-credit hour academic credit course encompasses all of the learning competencies of the InterACT Web Design 1 class, many of the learning competencies of the InterACT Web Design 2 course, and also introduces overviews of e-commerce, SEO and multimedia. However, we're using an actual textbook for the class, Web Development and Design Foundations with XHTML (http://webdevfoundations.net), rather than the industry trade books that InterACT recommended for these topics. We've found that the hands-on practice exercises, case studies, and interactive review games provided with the textbook to be essential to the success of our students.
WEB 210 Web Accessibility & Usability: This three-credit hour academic credit course encompasses the learning objectives of the InterACT Accessibility class as well as an introduction to usability. The learning modules in the InterACT class have been very useful in the design of the online version of our WEB 210 course ― the InterACT learning modules map very well to weekly modules for online courses. We're looking forward to the next release of the InterACT curriculum which will contain a Usability course.

At Harper College, we plan to review, adapt, and adopt InterACT curriculum as we continually update our courses to keep up with industry trends and best practices. For more information about web development programs at Harper College, visit http://www.harpercollege.edu/bus-ss/cis/info/webdev.htm."